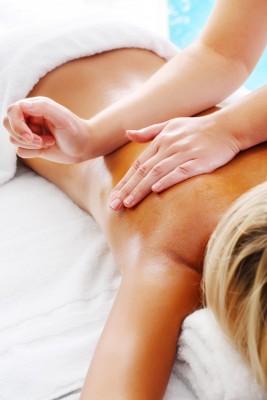 Deep tissue massage is aimed at sports enthusiasts and people with significant muscular tension.
It is both energising and slow, applying deep pressure to the back, leg and shoulder muscles to relieve tension.
Sliding pressure movements, compression and friction are used by applying thumbs, palms, elbows and forearms.
The benefits :
Relieves tension in the back, neck, legs, calves
Relieves nervous tension
Improves circulation
Session by appointment :

Duration : 1h or 1h30
Advised Frequency : 1 per week
Price : 85€ for 1h / 120€ for 1h30
Dress : underwear
Only top quality essential and organic oils used

48 hours notice is required when changing or cancelling an appointment to avoid being charged for the session.
Cons-indication :

Infections, fever, vomiting

Bone fractures, arthritis, phlebitis

Heart disease and diabetes

Open wounds, infectious skin problems
* The sessions have no medical or medicinal benefits and do not include any physiotherapy or osteopathy.